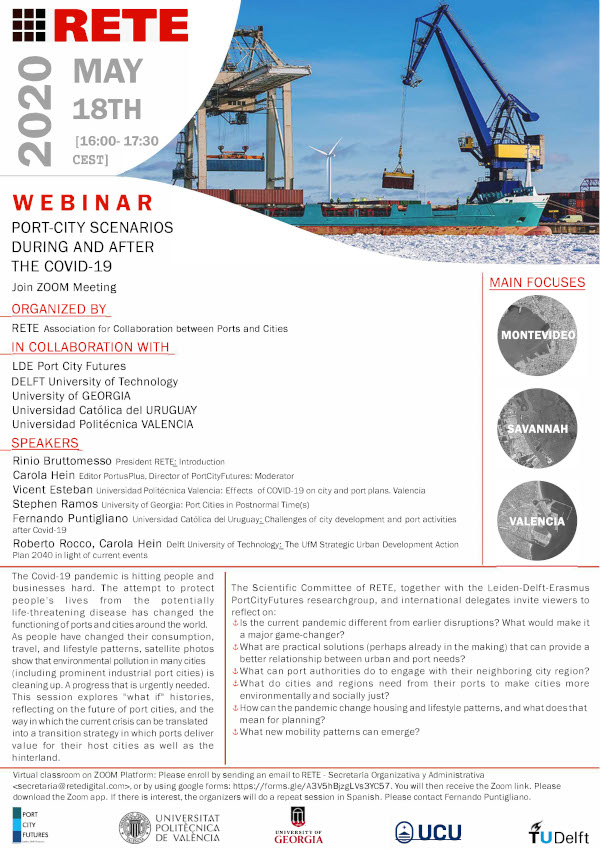 18th of May 2020, 4:00-5:30 pm (Rome)
Zoom Meeting
-
The second RETE webinar on 'Port-city scenarios during and after the Covid-19' will take place 18th of May 2020, 4-5:30 pm (Rome) on the web platform Zoom
The Covid-19 pandemic is hitting people and businesses hard. The attempt to protect people's lives from the potentially life-threatening disease has changed the functioning of ports and cities around the world. As people have changed their consumption, travel, and lifestyle patterns, satellite photos show that environmental pollution in many cities (including prominent industrial port cities) is cleaning up. A progress that is urgently needed. This session explores "what if" histories, reflecting on the future of port cities, and the way in which the current crisis can be translated Into a transition strategy in which ports deliver value for their host cities as well as the hinterland.
The Scientific Committee of RETE, together with the Leiden-Delf t-Erasmus PortCityFutures researchgroup, and international delegates invite viewers to reflect on:
Is the current pandemic different from earlier disruptions? What would make it a major game-changer?
What are practical solutions (perhaps already in the making) that can provide a better relationship between urban and port needs?
What can port authorities do to engage with their neighboring city region?
What do cities and regions need from their ports to make cities more environmentally and socially just?
How can the pandemic change housing and lifestyle patterns, and what does that mean for planning?
What new mobility patterns can emerge?
-
Scientific Organizer:

RETE Association for Collaboration between Ports and Cities
-
IN COLLABORATION WITH
LOE Port City Futures
DELFT University of Technology
University of GEORGIA
Universidad Cat61ica del URUGUAY
Universidad Politecnica VALENCIA
-
SPEAKERS
Rinio Bruttomesso President RETE: Introduction
Carola Hein Editor PortusPlus, Director of PortCityFutures: Moderator
Vicent Esteban Universidad Politecnica Valencia: Effects of COVID-19 on city and port plans. Valencia
Stephen Ramos University of Georgia: Port Cities in Postnormal Time(s)
Fernando Puntigliano Universidad Cat61ica del Uruguay: Challenges of city development and port activities after Covid-19
Roberto Rocco, Carola Hein Delft University of Technology: The UfM Strategic Urban Development Action
Plan 2040 in light of current events
-
Virtual classroom on ZOOM Platform:
Please enroll by sending an email to RETE – Secretaría Organizativa y Administrativa secretaria@retedigital.com
or by using google forms: https://forms.gle/A3V5hBjzgLVs3YC57.
You will then receive the Zoom link. Pleasedownload the Zoom app.
If there is interest, the organizers will do a repeat session in Spanish. Please contact Fernando Puntigliano.
-
-
-