Tuesday, 01 de June, 2021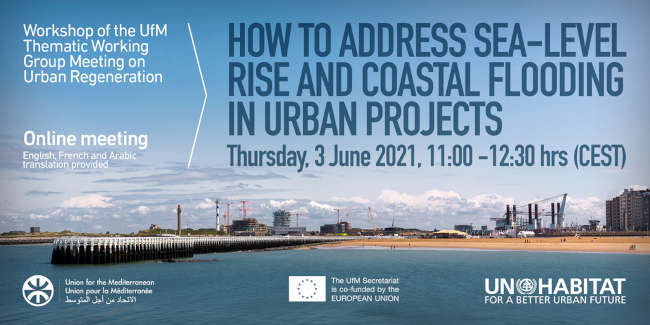 The Mediterranean coastal zone is more vulnerable to sea level rise than other coastal zones. The risk is significant for the inhabitants, very numerous on the coast, but also for the Mediterranean cultural heritage. Infrastructure and cultural heritage close to the coast should be protected.
The UfM Strategic Urban Development Action Plan 2040 proposes to UfM Member States to map trends, risks and challenges for inclusion of such challenges in national urban policies and integrated city development strategies.
The workshop of the UFM thematic working group meeting on urban regeneration on "How to Address Sea-level Rise and Coastal Flooding in Urban Projects", co-organized by the UN-Habitat and the Union for the Mediterranean, will be held online on Thursday, 3 June 2021, from 11:00 to 12:30 hrs (CEST).
The meeting proposes to countries' representatives a first common reflection of how urban projects should take into account coastal flooding and sea level rise, using adaptation measures such as the promotion of nature-based solutions.
Panel discussion will be moderated by Carola Hein, TU Delft, member of RETE Board of Directors and Scientific Committee and director of PORTUSplus.
Participants are kindly requested to confirm their participation in the meeting by registering online, as soon as possible, at the following link https://ufmsecretariat.org/formhow-to-address-sea-level-rise-and-coastal-flooding-in-urban-urban-projects/.