Friday, 12 de April, 2019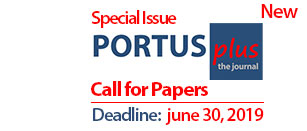 -
-
PORTUSplus 
Call for Papers 2019 :
Special Issue "Governance in Port City Regions"
- 
Paper Submission Deadline:
For the paper submission the deadline is June 30, 2019.
 -
PORTUSplus - published by RETE, International Association for the Collaboration between Ports and Cities – is an open-access journal, peer reviewed and indexed, dedicated to the multidisciplinary study of the relationship between port and cities and urban waterfronts. The Journal publishes scientific investigations – original works, experimental or theoretical studies or research results – from around the world. Our goal is to encourage the dissemination of knowledge on port-city-region relationships over time, to promote systemic investigation, application and interaction between policies and practices in the process. PORTUSplus invites scholars and researchers, experts and professionals to submit works in response to a Call for Paper 2019 – Special Issue.
 -
Governance in Port City Regions
Port city regions are complex territories where multiscalar markets and globalizing value chains overlap with urban and rural needs and interests. At times and in places where all these interests are aligned, port city regions emerge as strong economic, political and cultural centers that facilitate trade and travel. The ongoing fragmentation and transformation of port territories, governance systems and flexible coalitions of actors in different power positions, influences localities within cities and beyond. Port expansion, river dredging, but also different types of waterfront renewal depend on complex governance systems involving a diverse group of stakeholders. Contrasting visions among the various stakeholders in port city regions require careful assessment and new solutions to overcome barriers and to align the goals of all partners.
This is particularly important at the current time when multiple transitions – social, technical, energy – are in play. This special issue calls for papers that take a holistic approach and help identify and analyze port-city-region themes such as a governance from an multi-disciplinary perspective. We welcome articles that examine governance at diverse scales, from regions to waterfront spaces.
Actors in port city regions are multiple and with different goals and functions. Ports are regional and sometimes national economic power houses. Port authorities often shape national and regional policy making. A port's economic, infrastructural and environmental footprint reaches far beyond the limited territory it controls and impact municipalities in the vicinity. To facilitate the function of the ports, national governments in several countries, such as Japan and Italy, have put in place regional port governance systems to improve both the competitive position of the ports and to provide them with a better capacity to negotiate their position in complex territories. To improve their standing, ports reach beyond their perimeter, building infrastructure or purchasing stakes in other ports and companies.
We also invite contributions that focus on the role of port cities and municipalities or on waterfront governance. Port city regions are hosts of the ports. They are large consumer hubs that include also non-maritime or non-port oriented economic, ecological, socio-cultural and spatial goals. They have limited control over the port authorities, but need to provide port functions. As ports have grown beyond the territories of the cities that generated them, the number of governance actors that have a say in port development has increased. Port authorities need to engage with more and more diverse stakeholders, political pressures, market forces and legislations. Furthermore, choices on form and function of reuse in historic port areas often depend on local actor constellations.
We invite contributions from scholars from diverse disciplines to investigate changing, often asymmetric, governance constellations in port city regions and their evolution over time. We propose an exploration of governance that investigates formal and informal actor constellations. We also ask authors to think through the theoretical and methodological implications from government to governance systems that can contribute to a redefinition of port and city and region relationships.
We specifically ask:
How do government and governance patterns (and their change over time) influence port city region development in terms of economic relevance (throughput), technical innovation, social transformation (education) port city culture?

Are there historical, political, or geographical particularities that shape governance?

Are there path dependencies that have a long-term impact?

What theoretical frameworks can help understanding port-city-region governance?

What quantitative and qualitative frameworks and sources can facilitate comparison among port city regions?

What administrative or functional scales are relevant for comparison of port city regions?

How do governance constellations within cities foster or hinder design approaches and processes in support of sustainable urban and port transformation?

How have port authorities influenced regulations and negotiations? How have they interacted with local, regional, national and international institutions in their respective location?

How do governance constellations within cities influence the ways in which waterfront transformation is projected and realized?

How do port authorities influence adaptations in urban form and infrastructure (logistics, heritage)?

How does port activity (and the changing of patterns, such as the emergence of cruise shipping) transform governance patterns?

How can governance agencies satisfy at times competing interests of formal and informal actors?
-
More info about the "Call for Papers – Special Issue "Governance in Port City Regions":
-
https://portusonline.org/portusplus/call-for-papers-2019-special-issue-governance-in-port-city-regions/
-
and may be downloaded the OFFICIAL DOCUMENT of the Call for Papers 2019 – Special Issue "Governance in Port City Regions below:
-
-