Tuesday, 11 de December, 2018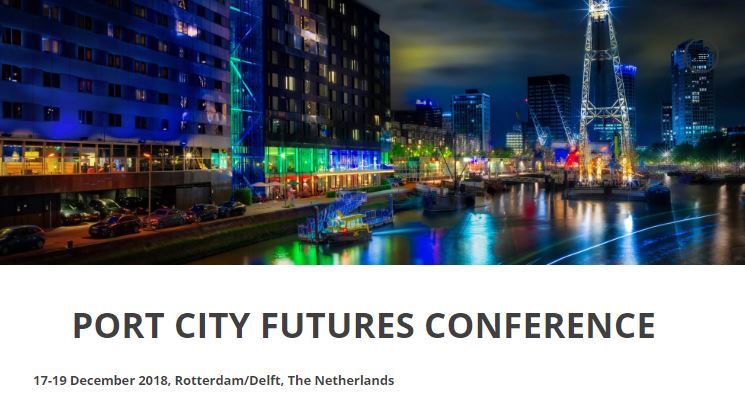 According to the United Nations, today 55% of the world population live in urban areas, of which some 37% live within 100 km of a coast. As urbanisation in these coastal areas and port cities continues, natural ecosystems are 'paved over or converted into ports, tourist beaches, and new communities'. The conference Port City Futures explores how ports, cities and regions in Europe respond to imminent urgent societal issues such as the energy transition, climate adaptation, new technologies, transformations of work conditions and what this means for spatial development in these port cities.
The conference explores how ports, cities, and regions interact as they evolve side-by-side given the limited space available. Historically, ports and cities have engaged with major urban and regional transformations before. It is this interconnectivity between port and city which will continue to play a role in the future. A common port city culture and shared values can help resolve contemporary spatial challenges for ports, cities and their regions.
To set forward a long-term research agenda, Port City Futures brings port, city and regional stakeholders together with scientists from various European port cities compare their knowledges and experiences with Rotterdam, recognizing common contemporary problems and creating future perspectives. This will be serve as a starting point for building frameworks which will allow for a better understanding of political, economic, social and cultural dimensions and how this translates into spatial port city planning policies.
-
The conference will take place from 17-19 December 2018 at Museum Rotterdam, Maritiem Museum, Schielandshuis Rotterdam and TU Delft.
- 
Among all the speakers will be present:
the President of  the Port Authority of the Central Thyrrhenian Sea, Members of RETE:
Pietro Spirito, President of the Port Authority of the Central Thyrrhenian Sea
-
and some Members of the Scientific Committee of RETE:
-
Carola Hein, Delft University of Technology
Massimo Clemente of Italy – IRiSS
and:
Eleonora Giovene di Girasole National Research Council
-
Further information:
http://conference.portcityfutures.org
Programme:
http://conference.portcityfutures.org/?page_id=50
-
TU-DELFT Exibition:
BK Expo
The Faculty of Architecture and the Built Environment has its own exhibition space: BK Expo. Exhibits in BK Expo include scale models, objects and scientific studies. BK Expo is located on the east side of the building, next to Espressobar Sterk.
https://www.tudelft.nl/en/architecture-and-the-built-environment/about-the-faculty/facilities/bk-expo/