Friday, 10 de April, 2020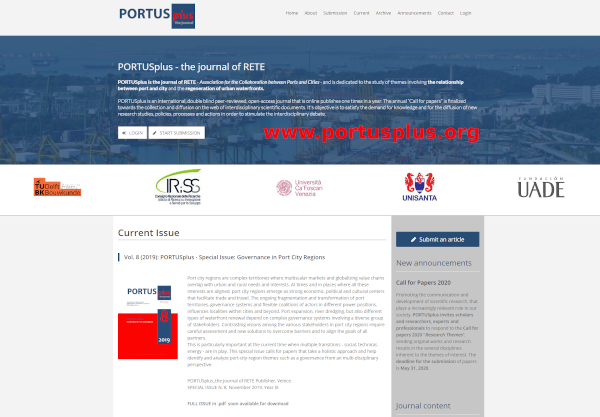 -
PORTUSplus
-
PORTUSplus is the journal of RETE - Association for the Collaboration between Ports and Cities - and is dedicated to the study of themes involving the relationship between port and city and the regeneration of urban waterfronts.
PORTUSplus is an international, double blind peer-reviewed, open-access journal that is online publishes one times in a year. The annual "Call for papers" is finalized towards the collection and diffusion on the web of interdisciplinary scientific documents. It's objective is to satisfy the demand for knowledge and for the diffusion of new research studies, policies, processes and actions in order to stimulate the interdisciplinary debate.
-
PORTUSplus is on the new web platform powered by Open Journal Systems (OJS). OJS was designed to facilitate the development of open access, peer-reviewed publishing, providing the technical infrastructure not only for the online presentation of journal articles, but also an entire editorial management workflow,  including article submission, multiple rounds of peer-review, and scientific indexing.
-
-
Call for Papers 2020 :
"Research Themes" PORTUSplus
- 
-
Paper Submission Deadline

: May 31, 2020.
Promoting the communication and development of scientific research, that plays a increasingly relevant role in our society, PORTUSplus invites scholars and researchers, experts and professionals to respond to the Call for papers 2020 "Research Themes", sending original works and research results in the several disciplines inherent to the themes of interest. The deadline for the submission of papers is May 31, 2020.
-
Themes of Interest
The topics addressed in the papers may concern the plurality of involved dynamics in the evolution of urban waterfronts and contemporary port cities, from the point of view of different scientific-disciplinary approaches (economic, social, city-planning, cultural, etc.). In particular, the proposals should concern an issue related to the thematic areas specified below:
HISTORY OF PORT CITIES
ECONOMY AND BUSINESS
CONTEMPORARY PORT CITIES AND NEW PORT-CITY RELATIONS MODELS
FUTURE SCENARIOS: PLANNING AND PERSPECTIVE
RESTRUCTURING URBAN-PORT WATERFRONTS
ARCHITECTURE AND PORT CITY LANDSCAPE
URBAN-PORT DEVELOPMENT AND ENVIRONMENTAL SUSTAINABILITY
CULTURE AND IDENTITY
PORT CITY DIDACTICS
COMMUNICATION RESOURCES AND TOOLS
INFRASTRUCTURES, TRANSPORT, INTERMODALITY, LOGISTICS
PORT, CITY AND TERRITORY
-
Language
-
The articles must be submitted exclusively in English, and – if deemed appropriate by the Author(s) – eventually in a second language among those admitted by the Journal (Spanish, French, Portuguese, Italian).
-
Deadline for Paper Submission
-
The deadline for the submission of papers is May 31, 2020. Subsequently the documents deemed suitable and in line with the standards of the Journal are subjected to a double-blind peer review process (neither the Authors nor the Reviewers know the identity of each other) to avoid bias in the evaluation.
Any submission received after the expiry of the term is reviewed afterwards for possible inclusion in the following issue of PORTUSplus.
-
Contact
For the papers submission and any further information, please to address issues and questions to the Managing Editor of PORTUSplus.
E-mail address: journal@portusplus.org
-
More infomation on Call for Papers 2020: 
-
Download below the .pdf  of Call for Papers 2020 "Research Themes" PORTUSplus
———————————————————————————-
EN_PORTUSplus_Call for Papers 2020_Research Themes
ES_PORTUSplus_Call for Paper 2020_Research Themes
IT_PORTUSplus_Call for Paper 2020_Research Themes
FR_PORTUSplus_Call for Paper 2020_Research Themes
-
-
 -