Tuesday, 19 de March, 2019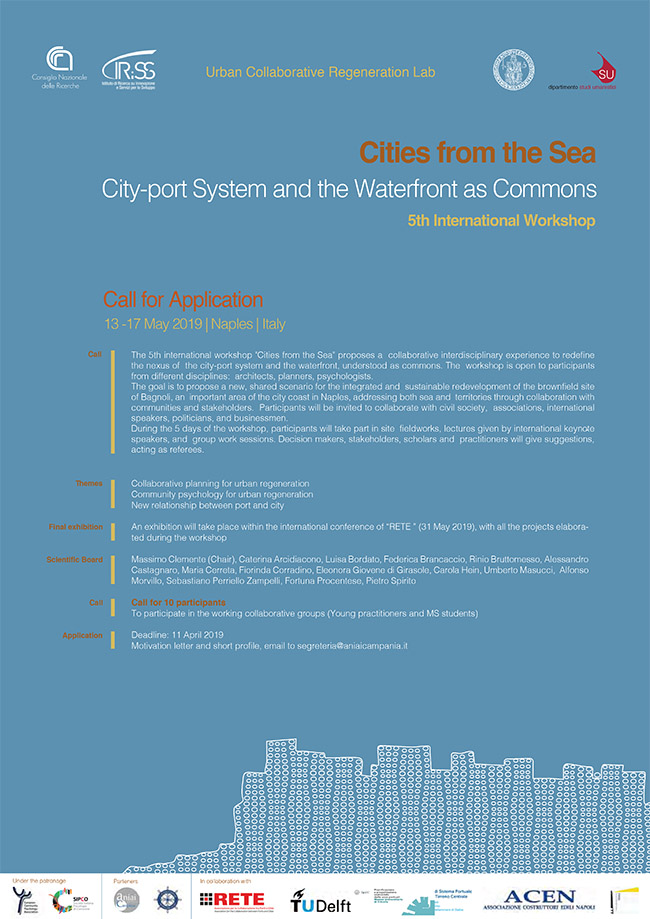 With Partnership of RETE
-
 -
The 5th international workshop "Cities from the Sea" proposes a collaborative interdisciplinary experience to redefine the nexus of the city-port system and the waterfront, understood as commons.
The workshop is open to participants from different disciplines: architects, planners, psychologists.
The goal is to propose a new, shared scenario for the integrated and sustainable redevelopment of the brownfield site of Bagnoli, an important area of the city coast in Naples, addressing both sea and territories through collaboration with communities and stakeholders.
Participants will be invited to collaborate with civil society, associations, international speakers, politicians, and businessmen.
During the 5 days of the workshop, participants will take part in site fieldworks, lectures given by international keynote speakers, and group work sessions.
Decision makers, stakeholders, scholars and practitioners will give suggestions, acting as referees.
 -
Themes
Collaborative planning for urban regeneration
Community psychology for urban regeneration
New relationship between port and city
 -
Scientific Board
Massimo Clemente (Chair), Caterina Arcidiacono, Luisa Bordato, Federica Brancaccio, Rinio Bruttomesso, Alessandro Castagnaro, Maria Cerreta, Fiorinda Corradino, Eleonora Giovene di Girasole, Carola Hein, Umberto Masucci, Alfonso Morvillo, Sebastiano Perriello Zampelli, Fortuna Procentese, Pietro Spirito
 -
The Call is for 10 participants 
 -
Who wants to participate to the working groups (Young practitioners and MSc students) have to email a motivation letter and short profile to: segreteria@aniaicampania.it
-
Deadline: 11 April 2019
-